Research and Publications
M. Lakdawala, S. R. Chaube, Y. Kazi, A. Bhasker and A. Kanchwala. Internal hernia through an iatrogenic defect in the falciform ligament: a case report. Hernia 2009 Apr;13(2):217-9.
M. Lakdawala, A. Bhasker. 'Recommendations For the use of Gastrointestinal Metabolic Surgery for treatment of Obesity and Type 2 Diabetes Mellitus in the Asian Population' Lakdawala M, Bhasker A: Asian Consensus Meeting on Metabolic Surgery(ACMOMS),Obes Surg.2010 Jul;20(7):929-36.
Muffazal Lakdawala, Aparna Bhasker, Dheeraj Mulchandani, Sunita Goel, Sneha Jain. 'Comparison Between the Results of Laparoscopic Sleeve Gastrectomy and Laparoscopic Roux-en-Y Gastric Bypass in the Indian Population: A Retrospective 1 Year Study.' Obesity Surgery, 2010, Jan;20(1):1-6
A Bhasker, M Gadgil, NH Muda, V Lotwala, MA Lakdawala. Revisional bariatric surgery for failed gastric banding in Asia: A review of choice of revisional procedure, surgical technique and postoperative complication rates. Asian Journal of Endoscopic Surgery, Volume 4, Issue 1, pages 26–31, February 2011.
M. Lakdawala, N.H. Muda, S. Goel, A. Bhasker. Single incision sleeve gastrectomy versus conventional laparoscopic sleeve gastrectomy – A randomised pilot study. Obesity Surgery. 10.1007/s11695-011-0478-y.
M. Lakdawala, A. Bhasker. Editorial- The Asian perspective to the International Diabetes Federation's position statement on bariatric surgery for diabetes. Asian J Endosc Surg ISSN 1758-5902.
M. Lakdawala, S. Shaikh, S. Bandukwala, C. Remedios, M. Shah, A. G. Bhasker. Roux-en-Y gastric bypass stands the test of time: 5-year results in low body mass index (30–35 kg/m2) Indian patients with type 2 diabetes mellitus. http://dx.doi.org/10.1016/j.soard.2012.07.017
Bhasker AG1, Remedios C, Batra P, Sood A, Shaikh S, Lakdawala M. Predictors of Remission of T2DM and Metabolic Effects after Laparoscopic Roux-en-y Gastric Bypass in Obese Indian Diabetics-a 5-Year Study. Obes Surg. 2014 Nov 16. [Epub ahead of print]
Bhasker AG1, Khalifa H, Sood A, Lakdawala M. Management of gastro-colic fistula after laparoscopic sleeve gastrectomy. Asian J Endosc Surg. 2014 Nov;7(4):314-6. doi: 10.1111/ases.12122.
Lakdawala M1, Agarwal A, Dhar S, Dhulla N, Remedios C, Bhasker AG. Single-Incision Sleeve Gastrectomy Versus Laparoscopic Sleeve Gastrectomy. A 2-Year Comparative Analysis of 600 Patients. Obes Surg. 2014 Oct 17. [Epub ahead of print]
Aditi Agrawal, Aparna Govil, Muffazal Lakdawala. Unusual case of right iliac fossa pain: A case report. Journal of MGIMS. 2015 Vol 20: 94-96
Remedios C1, Bhasker AG, Dhulla N, Dhar S, Lakdawala M. Bariatric Nutrition Guidelines for the Indian Population. Obes Surg. 2015 Aug 16. [Epub ahead of print]
Lakdawala M1,2, Limas P1,3, Dhar S1, Remedios C1, Dhulla N1, Sood A1,2, Bhasker AG. Laparoscopic revision of Roux-en-Y gastric bypass to sleeve gastrectomy: A ray of hope for failed Roux-en-Y gastric bypass. Asian J Endosc Surg. 2016 Mar 4. doi: 10.1111/ases.12277. [Epub ahead of print]
Work Experience
Presently Working in Apollo Hospitals Navi Mumbai since last Assignment
Certifications & Professional Memberships
Certifications:
Diploma in Principles and Practice of Clinical Research, 2015 Harvard Medical School, USA
AETF Colorectal Training programme at Shanghai in November 2009.
Certification course for Bioenteric Balloon Insertion organized by Allargan.
Medical writing course- Prof. Abe Fingerhut organized by Johnson and Johnson
Memberships:
International Federation for the Surgery of Obesity and Metabolic Disorders (IFSO)
Obesity Surgeons Society of India ( OSSI )
Indian Association of Gastrointestinal Endosurgeons (IAGES)
Endoscopic and Laparoscopic Surgeons of Asia (ELSA)
International bariatric club (IBC)
Dr. Aparna Govil Bhasker was honoured by the International Federation for Surgery of Obesity & Metabolic Disorders (IFSO) for her contribution to the prestigious IFSO Communication Committee from 2017 to 2020. She was the only Indian representative in this international committee during this period.
Awarded the prize for standing first amongst the PG entrants in MS surgery in 2003 at MGIMS Sewagram.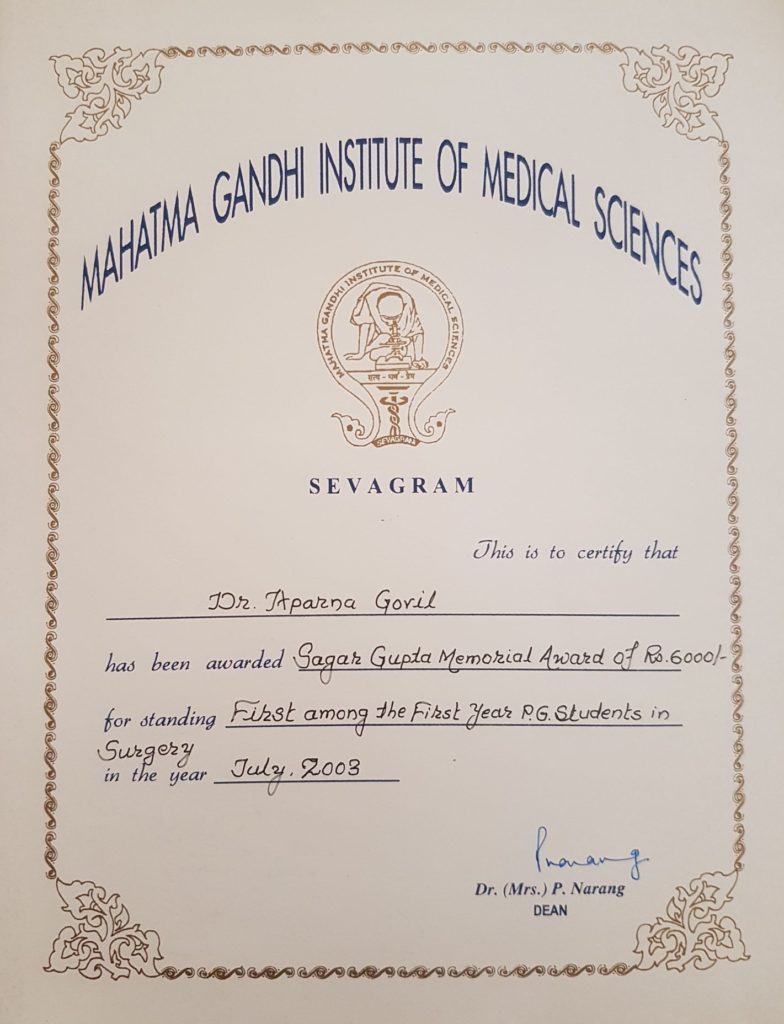 Dr. Aparna Govil Bhasker was one of the first Indian surgeons to be awarded International Centre for Excellence for Bariatric Surgery Designation in March 2011.
First Indian Hospitals And Surgeons Awarded International Center Of Excellence For Bariatric Surgery Designation
– Surgical Review Corporation (SRC), an independent, nonprofit organization that advances the safety, efficacy and efficiency of bariatric and metabolic surgery, today announced the first International Center of Excellence for Bariatric Surgery™ (ICE™) designees in India: Max Institute of Minimal Access, Metabolic and Bariatric Surgery (MAMBS) in New Delhi and Saifee Hospital Minimal Access Center of Excellence (MACE) in Mumbai. These providers successfully met the ICE program's comprehensive requirements, and completed a rigorous review and site inspection process.
Click here
Awarded the IFSO Travelling Scholarship at Buenos Aires in Argentina in 2008.
This fellowship was awarded to 2 young bariatric surgeons under 40 who are selected from hundreds of aspiring candidates from across the world.